We are excited to share our newly launched loan origination and management system – looms, designed to streamline the borrowing process, reduce operational costs, and minimize credit risks. With a focus on convenience and efficiency, looms empowers financial institutions to elevate their competitive advantage in the lending market.
Recently, many regulators have imposed interest caps and specific rules on lending fees, causing financial institutions to carefully examine their operational costs. Simultaneously, these institutions are grappling with inefficiencies due to manual document processing and complicated approval steps, resulting in higher operational expenses and customer frustration. To address these challenges, implementing a comprehensive loan origination and management system could be a solution. However, developing and maintaining such a system in-house requires a significant upfront investment and ongoing costs.
looms addresses these pain points head-on, offering a wide range of features that redefine loan origination. Key highlights include:
White-label Borrower Portal: Through the platform, borrowers can conveniently submit loan requests without the need to physically visit a branch, enhancing accessibility and customer satisfaction.
Intelligent Document Processor (IDP): looms automates data collection with its built-in IDP, effectively extracting and processing paper-based documents. Unlike OCR, IDP can analyze complex documents in various formats and improve its accuracy over time. This feature enables lenders to make instant decisions, minimizing risks and improving efficiency.
Custom Decision Flow: Lenders can create custom decision flows for new loan applications, incorporating both automatic and manual processes. This flexibility ensures precise and accurate decision-making, enhancing overall operational effectiveness.
Dashboard: looms provides an intuitive, customizable dashboard that caters to various roles within an organization, including management and customer analysts. The dashboard offers real-time metrics, task management, and analysis, empowering users to make informed business decisions.
Smart Debt Collection: looms' Smart Debt Collection streamlines debt recovery with custom delinquency buckets, configurable automated actions, and promise-to-pay flow. It categorizes customers with tags and efficiently allocates collection tasks to employees, optimizing the overall process for financial institutions.
Furthermore, looms features a robust product engine that gives financial institutions total control over loan product configuration. The system enables rapid creation and launch of new loan products, significantly reducing the time required compared to legacy systems. Collateral management functionalities allow support for various asset types, with the ability to perform valuations and track changes in valuations.
Expert Solutions for Every Lending Category
looms' robust and customizable features streamline loan application, approval, and servicing processes, empowering financial institutions to cater to diverse borrower needs and optimize their lending operations for enhanced efficiency and profitability. With its flexible framework, looms enables institutions to address unique requirements for each lending category while maintaining a seamless and user-friendly experience for both borrowers and lenders. Here are some of the examples of use cases:
Personal Lending: looms simplifies the entire process of applying for, approving, and managing personal loans, catering to all types of individual financing needs. Borrowers can now experience a seamless journey, while lenders benefit from increased efficiency and reduced processing times.
Hire-Purchase and Leasing: Streamlining leasing operations has never been easier. Our comprehensive solution optimizes lease management, enabling financial institutions to efficiently handle and oversee their leasing portfolios.
Purchase Finance: Enhance your sales potential with our system's seamless purchase finance options. From flexible Buy Now Pay Later (BNPL) solutions to embedded lending, our platform empowers businesses to offer attractive financing choices that boost customer satisfaction and drive sales.
SME Lending: In today's fast-paced business landscape, small and medium-sized enterprises (SMEs) require swift access to capital. Our Loan Origination and Management System simplifies complex SME lending, expediting the underwriting process and empowering businesses with faster access to the funds they need to grow and succeed.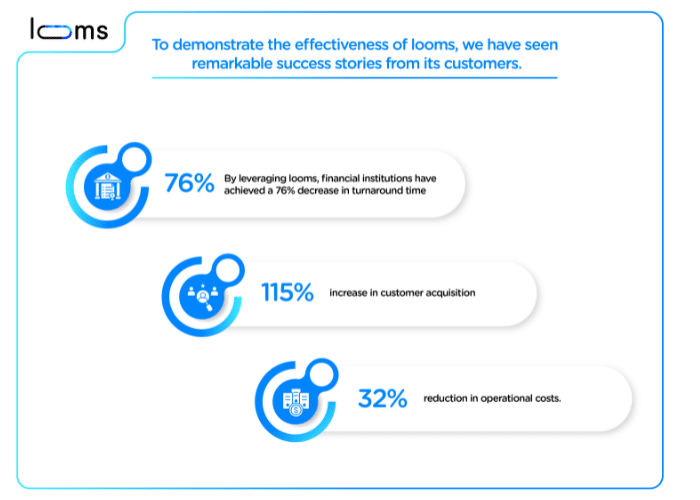 To demonstrate the effectiveness of looms, we have seen remarkable success stories from its customers. By leveraging looms, financial institutions have achieved a 76% decrease in turnaround time, a 115% increase in customer acquisition, and a 32% reduction in operational costs.
We offer various implementation options to cater different needs of companies. The Standard implementation allows for low-cost and rapid deployment, with the solution being ready to use within a week. For enterprises seeking a highly customizable solution, the Enterprise option provides a tailored system that aligns with specific business requirements. Additionally, companies interested only in LOS, there's a modular implementation option.
Otgonbayar.P, CEO of AND Solutions concludes "At AND Solutions, we are committed to helping financial institutions maintain their competitive advantage. looms empowers lenders to transform their lending process, enhance customer experiences, and achieve operational excellence. We invite all financial institutions to embrace looms and embark on a journey towards lending innovation."
About AND Solutions:
AND Solutions is a Singapore-based fin-tech company operating in 12 countries such as Japan, Thailand, Philippine, and Cambodia. The company currently offers other AI based solutions such as NIKO, an Auto Machine Learning platform and Custom Credit Scoring, a comprehensive, tailor-made solution for your credit risk management. With a strong focus on innovative solutions, AND Solutions aims to drive digital transformation in the financial services industry.